Shrinidh Joshi, medtech consultant on Kolabtree, provides 3 tips for successful medical device development that will help take your product to market quickly.
When you have an idea (either on a back of a 'napkin' or still brainstorming) for the development of a new medical device, it is very much likely that your idea will be disruptive like 'no other' and it will have a significant impact on the healthcare or it is just another way to look at the things. There is also a possibility that your product will help to resolve some of the current challenges for example 'form factor' and bulkiness of the spirometer device was a huge challenge until the discovery of portable, hand-held spirometer devices. Similarly, the discovery of blood glucose monitors was transformative like no other for millions of diabetics.
It is not necessary to design a medical device that is extraordinary or disruptive, a medical device that can add value to the existing users also holds the chances of providing user benefits such as software as a medical device like BlueStar [1] which helps in lifestyle and medication management for diabetics. The biggest dilemma for a medical device startup is whether their device will be able to capture a profitable share in the market. Most of the time the conundrum stems either from the quality control or the validity of the medical device or from the complexity of bringing a medical device to the market. For the medical device startups, I would say without having experts to guide you throughout the process both of them can lead to derailment of your project. In some cases, if you have designed a medical device that holds the potential to disrupt the market and bring in new ways of looking at the treatment, maybe you haven't thought about the regulatory requirements that kind of device might have, or maybe regulatory agencies are not able to classify your device. I was partnered with a company that had a brilliant idea to combine a therapeutic device with a diagnostic device to provide end-to-end benefits to the end-user, however, the confusion for the regulatory agency was to review that device as a drug or under 510(k) as a diagnostic device. Therefore, a holistic approach considering all the aspects of design validity, quality control, and regulatory framework is a wiser approach rather than tackling them as and when needed. It requires precision in every stage — right from product ideation to design and development, compliance, testing, scale-up, and marketing of the product.
In this article, we will take a look at the design and development phase of the medical device development process. This step as one may think is the most important phase in the medical device life cycle. As a medical device startup if you leave out any key step in defining or designing your medical device you may risk non-compliance with the regulatory agencies and your device won't be able to make it to the market. Even though you are successful in bypassing the regulatory hurdles for a slackly defined or designed device, it might fail eventually to deliver its claims on intended use or benefits over its predecessors or competitors. On the other hand, a well defined and designed product holds a lot of potential to its claims on market disruption and eventual market adoption.
As with every healthcare product whether a drug or a medical device, it requires a considerable amount of effort and meticulousness to deliver the right solution that can meet a customer's demands. As a medical device startup, you need to make sure all the stakeholders are aligned with the product's scope, deliverables, definition, specification, design, and form factor, risk mitigation strategy, and regulatory requirements. Essentially, all of the above efforts should be driving towards the best possible quality for your medical device.
Medical Device Development: From Product to Discovery Phase
1. Product Ideation and Conceptualization
The first step in medical device innovation is to analyze and identify the medical device market. As mentioned above, you are analyzing to see if your device is meeting unmet medical needs like early diagnosis of a difficult to cure disease or it is providing a more efficient way to manage a chronic disease. The problem statement for your medical device could be a novel or a better way to monitor adherence to the treatment regimen, monitoring ailment and health, improving drug delivery minimizing the drug requirements and adverse drug events, using artificial intelligence, machine learning, deep learning, or real-world insights etc. Innovative software can also be defined and approved as a medical device under a software as a medical device (SaMD) category.
Identifying the need with demand is a primary step for creating a medical device offering, apart from being compliance-ready. The success of this depends very much on two things:
The gap between the need of the target market and what medical device developer perceives as the need; the lesser the gap, the better inputs for product definition;

A strong product definition is extracted by analyzing market needs.
The overall medical device development process can be simplified as per figure 1 shown below.
As a medical device startup it is important to back up your scientific and engineering innovation with agility to move faster horizontally across the regulatory decision process and this could be achieved by having strategic checkpoints at each stage of the medical device development process. Think about this from a product life cycle point of view, you will be facing challenges every time, from inception of idea to market launch and from regulatory approval to market adoption. The point is challenges and medical device development are coiled together and the only way to uncoil them is via scientific/engineering momentum on the development side and via science-based regulatory decision-making on the approval side.
2. Device Classification
After product ideation and defined characteristics, the next step is to verify risk-based regulatory classification for your device. You need to make sure to identify the risk-associated with your device and select the appropriate class based on the regulatory market you choose to enter. At this stage you may also need to ensure the intended use of your device is clearly defined. This is very important and if you are planning for 510(k) then make sure the intended use of your device matches with the predicate device.
Depending upon which geographical and regulatory location you are intending to apply for your medical device whether n the US or in the European Commission, you may either need to classify your device as per Medical device classification panel (US FDA medical device classification) or MEDDEV 2.4/1 Rev. 9 (EN guidance MEDDEV), respectively. By far the largest component of your submission will be covered by the medical device classification section. This section defines the regulatory requirements for your device. Depending upon the medical device class you have selected, it is a good idea to check for existing guidance documents published by regulatory authorities. For example, in the US, half of the time it could be possible that FDA might already have a guidance document relevant to your application. Such guidance can serve as a ready reference for the expedited review cycle and better chances of approval in your first filing. These guidance documents are published to guide both innovator medical device companies like yours and agency's reviewers for the faster review of submissions. Also, you need to look for any pre-existing Intellectual Property on the proposed idea or similar; it might disallow you to use the mechanism or technology. To carry out a complete discovery phase, a strong development team is crucial. This may be a pitfall if the team is not well experienced. In any case, you can decide to go with an in-house team, a consultant, or a medical device engineering company.
The key consideration for companies while looking for an in-house consultant or external medical device consultant is that they should have expertise in the following areas:
Engineering and design

Human factors and usability engineering

Clinical and scientific knowledge of the medical industry

Regulatory affairs and quality assurance

Intellectual property law
3. Discovery Phase
The discovery phase where you will take your idea into the initial designing stage and develop prototypes for your device. This stage involves a lot of brainstorming with engineers, design consultants and your team to make 3D prototypes through simulations and computer-assisted designs and test those prototypes for proof-of-concept. You should also start looking at the FDA guidance documents to find out which critical functionality tests are pertinent to your device and start using them as a decision-matrix for finalizing the ideal design of your device. For the startups which are still boot-strapping for finances, it will be cost-prohibitive to run all the tests as per the guidance documents so I would rather advise to choose one or two most relevant tests and use them for design optimization. Once you have optimized your medical device concept and design, you may now proceed for regulatory approval and commercialization. It is noteworthy here that the US FDA critical path initiative focused on the science of development: better toxicology, biomarkers, improved clinical trials, and personalized medicine, but that initiative, like others including the re-engineering initiatives of the 1990s and legislative changes that accompanied device user fees, did not examine the regulatory structure of the approval process itself and how the regulatory structure determines the choices in the science of development.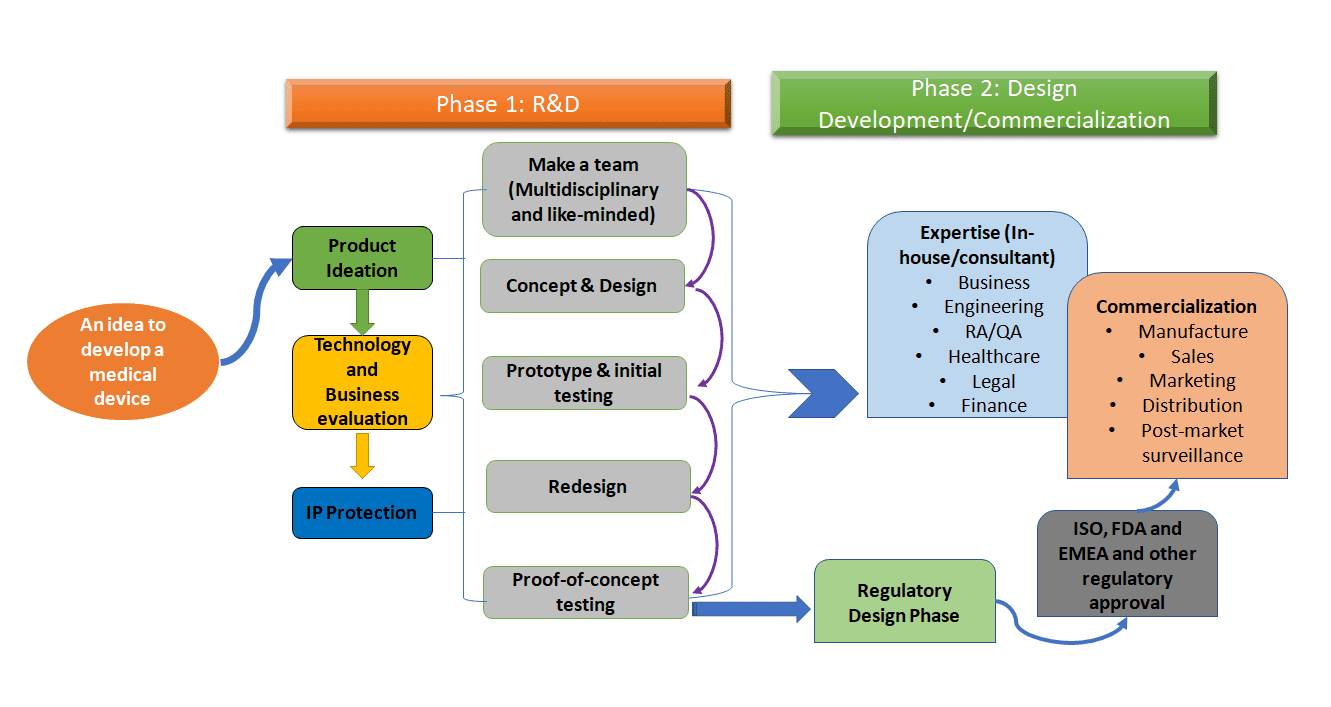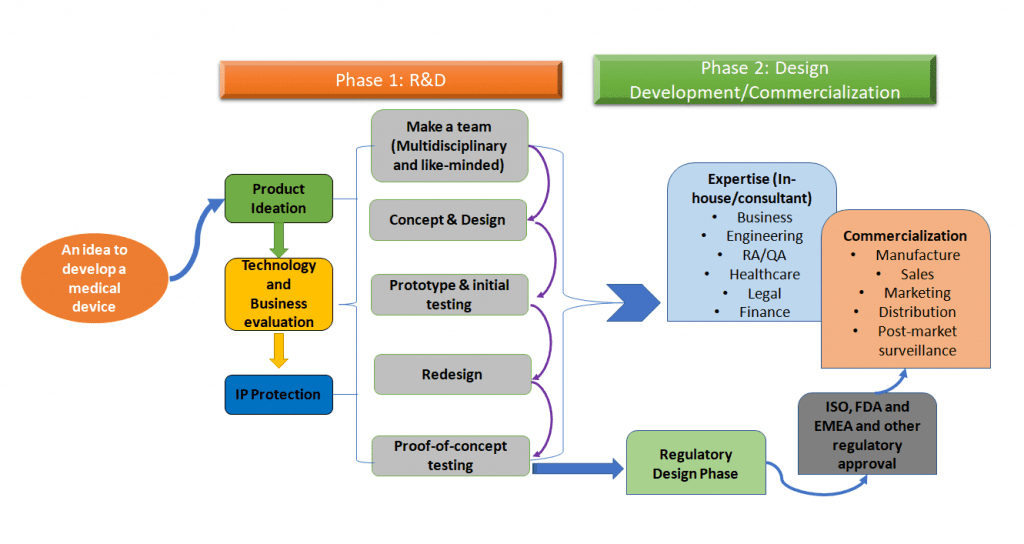 Figure 1: Medical device development is a holistic process. This is a simplified version of the process which is a phase-wise approach but ideally, all the steps of this entire process need to be mapped out early-on during the medical device development (Adapted from [1,2]).
Need help to develop a medical device? Browse medical device consultants on Kolabtree. It's free to contact an expert or post your project.
Also read: How much does it cost to hire a medical device consultant?
References
FDA, 2005, Total Product Lifecycle, FDA-CDRH Presentation by CDRH Director Dr. David Feigal, http://www.fda.gov/cdrh/strategic/presentations/ tplc.html
All articles in this series:
Medical Device Development and Design: A Definitive Guide
Medical Device Development: 3 Tips for Success
Medical Device Design: The Essential, Step-by-Step Guide
Medical Device Commercialization: 9 Steps from Sketch to Launch
How to Overcome Medical Device Commercialization Challenges
Medical Device Launch: Key Steps to Bring Your Product to Market
Medical Device Post-Market Surveillance: A Comprehensive Guide
---
Kolabtree helps businesses worldwide hire freelance scientists and industry experts on demand. Our freelancers have helped companies publish research papers, develop products, analyze data, and more. It only takes a minute to tell us what you need done and get quotes from experts for free.



---
Unlock Corporate Benefits

• Secure Payment Assistance
• Onboarding Support
• Dedicated Account Manager

Sign up with your professional email to avail special advances offered against purchase orders, seamless multi-channel payments, and extended support for agreements.

---