Seven steps to ensure that you protect your IP while working with a freelancer or remote worker on Kolabtree.
Working with freelancers or remote workers is becoming an increasingly popular trend among companies of all sizes. It offers a wealth of benefits: save costs, access a global network pool, get work done quickly. However, one of the major concerns organizations have while working with freelancers/remote teams is around trust and safety. How can I be confident of sharing sensitive data with someone I've never met, who is not integrated into my company as a full-time employee? How can I make sure my information stays confidential, safe and secure?
Trust plays a key role in all working relationships. While hiring a freelancer, it's important that you're aware of steps you can take to make sure the experience is built on mutual trust for a successful experience. Here are some tips to help you protect your IP and collaborate with freelancers with full confidence.
1. Get legal protection for protectable assets
Protecting your ideas, products or other aspects of your business by means of copyrights, trademarks and patents is one of the first things to keep in mind when you're ready with a new business. You can apply for a patent, register a design, register a trademark. Get to know the laws in the countries you're in and/or are selling in. In some countries, you may need to actively apply for copyright protection (such as India), while in others, you might have copyright protection by default (such as the UK). If you're working as an academic or researcher, it's important to familiarize yourself with IP policies and whether you have any safeguards in place in case you choose to disclose details in published work before you apply for a patent.
2. Understand the Terms and Conditions involved
Make sure to pay attention to Terms and Conditions involved when you hire a freelancer. Is there a statement or clause around confidentiality and IP protection? Is the owner of Intellectual Property clearly stated?
Kolabtree's Terms and Conditions include a default confidentiality clause that protects the IP of the client. According to the Kolabtree's T&C:
You grant a freelancer a limited, non-exclusive and revocable right to use your materials solely for the purpose of performing the work required
You reserve all rights without limitation to all Intellectual Property and are the sole and exclusive owner of all IPR
Upon completion of the project, or as per your written request, the freelancer will return all materials and will destroy copies (except for background technology as specified in the service contract)
Kolabtree's T&C can be customized by large enterprises who have specific systems in place to integrate freelancers into their systems as verified vendors.
3. Sign custom agreements or NDAs
For added protection, you can share custom agreements to include any custom terms your organizations might require freelancers to adhere to. You can also easily share Non-Disclosure Agreements which legally binds the freelancer to maintain confidentiality about anything work, ideas, material or knowledge that you share. You can share NDAs before disclosing your project details on Kolabtree, after which you can go ahead and discuss the scope of work.
4. Keep your project private
Kolabtree allows you to keep your project either Public or Private. If you keep your project Public, all logged-in freelancers will be able to view your project details and send you proposals. Your full project description is never shown publicly on the web or in Google search results.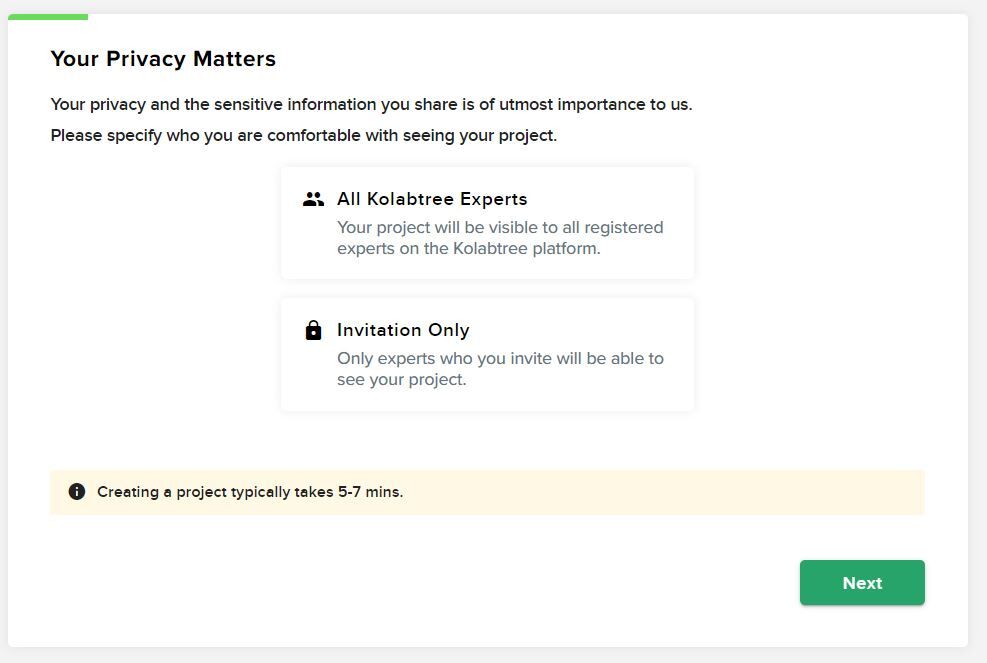 If you keep your project Private, only freelancers you personally choose to invite can view your project details and send you proposals. You always have full control over your project privacy settings and can restrict visibility of details. You can also request the Kolabtree support team for help to invite the best freelancers, whose skills match your requirements.
5. Categorize your projects by risk level
The level of risk varies based on the project, the industry and the kind of work you're looking to get done. For example, sharing information about a food product recipe might have a lower risk level as compared to sharing data with personally identifiable information. Understanding the risks upfront can help you take steps to mitigate them. Breaking down large and complex projects into smaller projects can also help you assess the risk involved at each stage and list out specific security measures you may need to take.
6. Protect your files
When you share files and collaborate with freelancers online, make sure you take these simple steps to protect your data.
Avoid sharing personally identifiable information as much as possible before you upload data. Make sure you only share data that the freelancer absolutely needs to work on your project.
Make sure healthcare data is compliant with security and safety requirements, such as HIPAA
While sharing files, try to use password protection methods, such as that offered by Adobe for PDFs
Give restricted access to documents giving user-specific permissions such as those offered by Google Docs or Dropbox
7. Know your freelancer
For a successful collaboration, you need to be able to trust the person you're working with completely. Though Kolabtree's freelancers are manually screened, you can also verify their authenticity and level of expertise by taking the following steps:
Visit their official page in an academic institution or university, if they are in a postdoc, research or teaching position
Visit their LinkedIn profile
Look for alternative profiles online, such as those on Research Gate or Github
Check their list of publications on their Kolabtree profile, which is auto-synced with Orcid
Look for previous client ratings and comments on Kolabtree
Kolabtree's experts are manually screened and adhere to the highest levels of integrity. Many of them hold PhDs from institutions like Cambridge University, MIT, Harvard University, Oxford University, and more. As academics, scientists and industry experts themselves, they are particularly careful about information sensitivity. We encourage you to set up calls and interview freelancers before making a hire.
Ready to hire a freelancer? Post your project for free on Kolabtree and get quotes from experts.

Disclaimer: This article does not cover all legal issues and is not intended to replace legal advice. Please consult a legal advisor if you have any concerns.
---
Kolabtree helps businesses worldwide hire freelance scientists and industry experts on demand. Our freelancers have helped companies publish research papers, develop products, analyze data, and more. It only takes a minute to tell us what you need done and get quotes from experts for free.



---
Unlock Corporate Benefits

• Secure Payment Assistance
• Onboarding Support
• Dedicated Account Manager

Sign up with your professional email to avail special advances offered against purchase orders, seamless multi-channel payments, and extended support for agreements.

---